Relevance
GS3 || Economy || Infrastructure || Transportation
 Why in news?
Indian Railways is all set to build country's first vertical-lift bridge connecting Rameswaram to mainland India.
Replacing the 104-year-old Pamban Bridge, the new vertical-lift bridge will allow ships and steamers to pass through without any hindrance.
The two-kilometre-long bridge will cost Rs 250 crore and is expected to be ready in next four years.
 About Pamban /Rameshwaram island
The island is a part of India and forms the Rameswaram taluk of the Ramanathapuram district of the state of Tamil Nadu.
It is the largest island in Tamil Nadu by area. The principal town in the island is the pilgrimage centre of Rameswaram.
 About pamban bridge
Pamban Bridge is a railway bridge which connects the town of Rameswaram on Pamban Island to mainland India. Opened on 24 February 1914.
Till 1988, it was the only surface link connecting the two places, till a road bridge was built parallel to it.
The existing bridge is 2,058 metre long and has been used for more than 104 years. Since it has been almost non-operational for the last few years, Indian Railways has planned the new vertical bridge.
Pamban bridge uses 'Scherzer' rolling lift technology in which the bridge opens up horizontally. In the new bridge, a 63-metre section will lift vertically upwards remaining parallel to the deck. It will be done using sensors at each end.
The new bridge will have a 63-metre stretch which will lift up while remaining parallel to the deck to allow access to the ships. It will have 100 spans of 18.3 metre and one navigational span of 63 metre.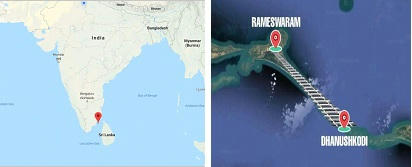 More plans
Indian Railways is also looking to construct a 17-kilometre long line from Rameswaram island to Dhanushkodi, to re-establish rail connectivity and provide pilgrims with an easy option to travel to the holy town.
The Rs 208 crore project has also got the nod from Railway Ministry and will be completed in the next 2-3 years.
 Additional information – About vertical-lift bridge technology
A vertical-lift bridge or just lift bridge is a type of movable bridge in which a span rises vertically while remaining parallel with the deck.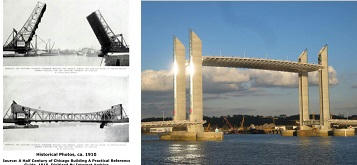 Make Notes