Relevance
GS3 || Defence & Security || Tackling Security Threats || Border Management
 Why in news?
India to construct 44 strategic roads along borders with China
Details
A report by the Central Public Works Department (CPWD) has disclosed that the government will construct 44 strategic roads along India's borders with China and over 2100 km of axial and lateral roads in Punjab and Rajasthan, abutting Pakistan.
The report comes at a time when China is giving priority to projects along its India borders.
Last year, Indian and Chinese troops engaged in a face-off at the Doklam tri-junction after the neighbouring country had begun building road in the area.
The CPWD has been entrusted with construction of 44 strategically important roads along the India-China Border spanning 5 states of J&K, Himachal Pradesh, Uttarakhand, Sikkim and Arunachal Pradesh," the report stated.
The report stated that these 44 strategically road along the India-China border will be constructed at a cost of nearly Rs 21,000 crore.
China's escalation near the border
The recent official revelation that China began deploying 50 km range laser-guided and satellite guided PLC-181 vehicle mounted howitzers in Tibet opposite to Sikkim and other areas.
There are other weapon systems to be deployed to Tibet according to the Chinese press. These include, plans to deploy the 32 tonne, 105 millimetre gun, T-15 light tank that can be easily transported; a new LW-30 laser defense weapon system that can detect and strike low, slow and small targets including unmanned aerial vehicles (UAV).
More alarming was the January 10, 2019, China Central TV report that DF-26 manoeuvrable re-entry missile system has been deployed to the northwest for training purposes.
Additional information – What is Doval's offensive defense and double squeeze policy ?
The offense defence and double squeeze policy of Doval's was visible during the surgical strikes that India carried out across the Line of Control following the Uri attack.
Unlike a purely chowkidar-like response to engaging with the enemy, and even unlike an all-out offensive response – where nuclear war becomes a possibility – defensive offence is when you go and attack the place where the offense is coming from.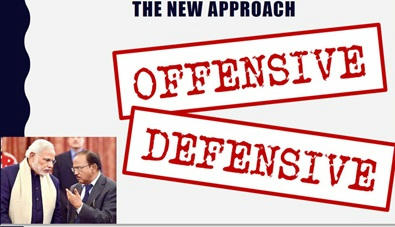 Additional information – Indo China border
India shares total boundary of around 3,488 km with China (second largest after Bangladesh).
The Sino-Indian border is generally divided into three sectors namely: Western sector, Middle sector, and Eastern sector.
5 states viz. Jammu & Kashmir, Himachal Pradesh, Uttarakhand, Sikkim and Arunachal Pradesh share border with China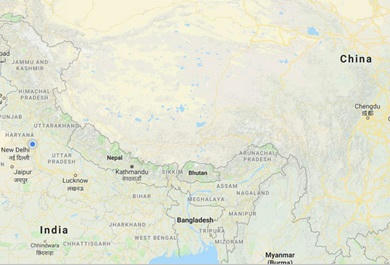 Make Notes