Relevance
GS3 || Economy || Infrastructure || Transportation
 Why in news?
UP Cabinet approves construction of Ganga Expressway to connect Prayagraj with Western UP.
 About the project :
The decision was taken at the state cabinet meeting held at Prayagraj, the venue of the Kumbh Mela. It is only the second time in the history of Uttar Pradesh that the cabinet meeting has been held outside the state capital.
Ganga Expressway will provide better connectivity to Prayagraj.
The expressway is likely to cost Rs 36,000 crore and will be built on a stretch of 6,556 hectares land, said Adityanath.
The proposed Ganga Expressway will pass through Meerut, Amroha, Bulandshahr, Budaun, Shahjahanpur, Kannauj, Unnao, Rae Bareli and Pratapgarh districts and end at Prayagraj.
It will be 4-lane expressway which can be expanded to 6-lane expressway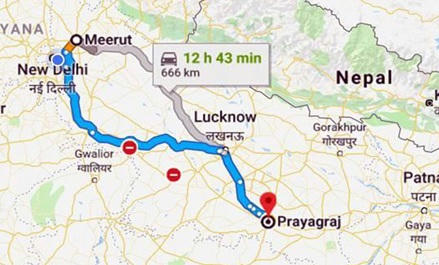 Expressways in india :
Expressways are the highest class of roads in the Indian road network. They are six or eight-lane controlled-access highways.
Agra-Lucknow Expressway, 302 km long currently
What is the difference between national highway and expressway?
National Highways are the main highways running through the length and breadth of india, connecting ports, forigh highways and capitals of states. Naytional Highways are managed and maintained by National Highway Authority of India.
Expressways – National Expressways Authority of India operating under the Ministry of Road Transport and Highways will be in-charge of the construction and maintenance of expressways. Mostly expressways are constructed between two commercially important cities for faster communication.
Make Notes