Relevance
GS3 || Environment || Governance: International || Conventions & Protocols
Why in news?
India has proposed to remove rosewood (Dalbergia sissoo) from Appendix II of Convention on International Trade in Endangered Species of Wild Fauna and Flora (CITES), a multilateral treaty to protect endangered plants and animals.
The species is currently part of Appendix II of CITES that has species not necessarily threatened with extinction, but in which trade must be controlled to avoid utilisation incompatible with their survival. But, India doesn't want that for rosewood
About CITES
It is an International agreement to regulate worldwide commercial trade in wild animal and plant species. It also restricts trade in items made from such plants and animals, such as food, clothing, medicine, and souvenirs
It was signed on March 3, 1973 (Hence world wildlife day is celebrated on march 3).
It is administered by the United Nations Environment Programme (UNEP).
Secretariat — Geneva (Switzerland).
CITES is legally binding on state parties to the convention, which are obliged to adopt their own domestic legislation to implement its goals.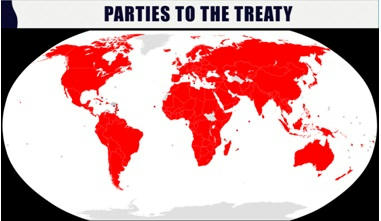 CITES meeting
The Conference of the Parties (CoP) is held once every three years. (Don't confuse this with Climate Change COP meetings)
Classification under CITES Convention
Appendix I species: It lists species that are in danger of extinction. It prohibits commercial trade of these plants and animals except in extraordinary situations for scientific or educational reasons.
Appendix II species: They are those that are not threatened with extinction but that might suffer a serious decline in number if trade is not restricted. Their trade is regulated by permit.
Appendix III species: They are protected in at least one country that is a CITES member states and that has petitioned others for help in controlling international trade in that species. 
Additional information – About Rosewood/ Dalbergia sissoo
Dalbergia sissoo, known commonly as North Indian rosewood, is a fast-growing, hardy deciduous rosewood tree native to the Indian Subcontinent and Southern Iran. D. Sissoo is a large, crooked tree with long, leathery leaves and whitish or pink flowers.
The wood of D. sissoo is known as sheesham or shisham and is an important commercial timber.
Make Notes