Relevance
GS 3 || Economy || Banking & Financial Sector || NPA
 Why in News?
Government recently announced funds for recapitalization plans for PSBs.
 Provisions Introduced
Package – Around 88,000 crore rupees into 20 Public Sector Banks. These 20 banks accounts for the around 80% of the total bad loans. 1st– NPA (Non-Performing Assets), 2nd – Return on Assets, 3rd – Return on Capital employed are the parameters of bad loans.
Themes – the recapitalization package includes SIX themes:
Customer Responsiveness
Responsible Banking
Credit Off take
PSBs as UdyamiMitra (Being affable to Entrepreneurs)
Deepening the financial inclusion and digitalization
Developing personnel for brand public sector banks
Differential Approach: for the banks will be followed which means that weaker banks will get more money in this recapitalization. Weakest banks are classified on the basis of PCA (Prompt Corrective Action) by the RBI.

Banks under the PCA will (means economically weaker banks) get 50,000 crore and the banks which are comparatively healthier will get 35,000 crore.
PCA (Prompt Corrective Action) – RBI's measure primarily aim to take appropriate corrective action on weak and troubled banks.
The RBI has put in some trigger points for the PCA:
1st – CRAR (Capital to Risk Awaited Ratio, which measures the balance sheets of the banks), 2nd – NPA, 3rd – Return on Investments
RBI can also provide the discretionary action plan apart from the mandatory action plan.

Recapitalization – Capital infusion will be done partially by recapitalization bonds and partially by budgetary support. This recapitalization bond will have a maturity period of 10 -15 years and will be issued in six different slots. They will not hve a statutory liquidity requirements and it will be non-tradable.
 Fiscal Impact
Impact on Fiscal Consolidation – Govt. will have to cut down the expenditure in order to bring down the fiscal deficit. By the recapitalization package, the expenditure would go up.
Fiscal Deficit – but the recapitalization package may widen up it further level.
 Benefits
Increased lending capacity – it will infusing more capital into the PSBs. In consequence of that, PSBs will be able to lend more money. The money is expected to revive the capital investments cycle in the economy. It refers to Gross Capital Formation (GCF). With more money supply, the investments will further go up in the economy, and more GDP in the economy.
Regulatory capital requirements – Can lead to growth of those banks. PCA is taken based on these trigger points. Capital Infusion will help to come over the PCA.
 Additional facts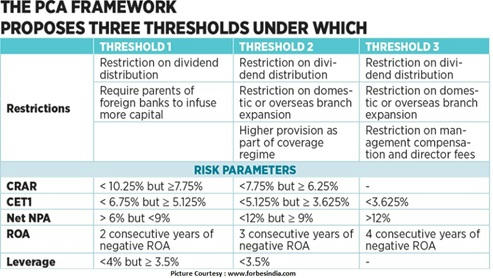 If PCA is taken, what is left for a bank?
Banks are not allowed to re new or access costly deposits or take steps to increase their fee-based income. Banks will also have to launch a special drive to reduce the stock of NPAs and contain generation of fresh NPAs. They will also not be allowed to enter into new lines of business. RBI will also impose restrictions on the bank on borrowings from interbank market.
RBI has placed eleven PSBsunder the PCA framework:
Dena Bank,
Central Bank of India,
Bank of Maharashtra,
UCO Bank,
IDBI Bank,
Oriental Bank of Commerce,
Indian Overseas Bank,
Corporation Bank,
Bank of India,
Allahabad Bank and
United Bank of India
NPA's & PCA's  Information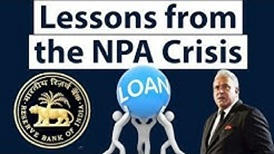 (Click on the image above to watch the video)
The comprehensive information on NPA and the lessons learned on it.
Make Notes