Relevance
GS 2 || Government and social justice || Human Development || Health
 Why in news?
Data
According to data compiled by the National Centre for Disease Control (NCDC) under the Ministry of Health and Family Welfare, there have been 4,571 cases of swine flu and 169 deaths from the disease across the country this year until January 27.
India is witnessing a new rise in the number of cases and deaths due to swine flu.
Gujarat is the worst-affected, followed by Rajasthan, Punjab, Maharashtra and Delhi.
The number of cases in the southern states is also high compared with last year, especially in Tamil Nadu.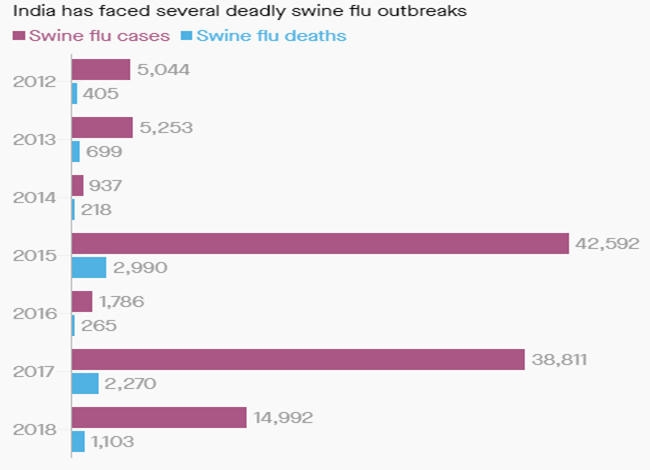 Swine Flu
Swine influenza virus (SIV) or swine-origin influenza virus (S-OIV) is any strain of the influenza family of viruses that is endemic in pigs.
It is an orthomyxovirus that contains the glycoproteins haemagglutinin and neuraminidase. For this reason, they are described as H1N1, H1N2 etc.
Influenza A (H1N1)
Influenza A (H1N1) virus is the subtype of influenza A virus that is the most common cause of human influenza.
It is an orthomyxovirus that contains the glycoproteins haemagglutinin and neuraminidase. For this reason, they are described as H1N1, H1N2 etc. depending on the type of H or N antigens they express with metabolic synergy. Haemagglutinin causes red blood cells to clump together and binds the virus to the infected cell.
Neuraminidase is a type of glycoside hydrolase enzyme which helps to move the virus particles through the infected cell and assist in budding from the host cells.
Some strains of H1N1 are endemic in humans and cause a small fraction of all influenza-like illness and a small fraction of all seasonal influenza. Other strains of H1N1 are endemic in pigs (swine influenza) and in birds (avian influenza).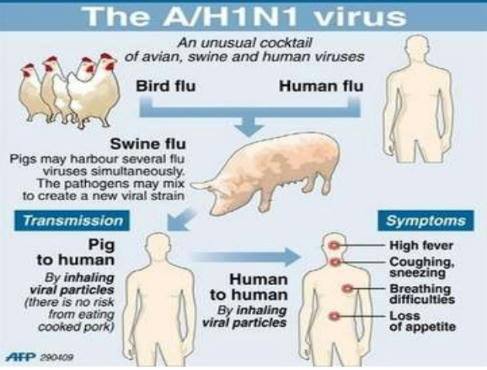 Risk Factors
Since swine flu can be directly be transmitted from one person to another through air droplets, people who fail to follow proper hygiene, especially in crowded places are at a high risk of contracting the virus. But, according to observations, there are specific groups of individuals that have been the most affected by the illness.
Individuals having any other respiratory condition like pneumonia
Pregnant women
People suffering from chronic diseases like heart disease and diabetes
People more than 65 years of age and children younger than 2 years
 Urgent measures 
Treatment
According to the National Institute of Communicable Disease (NICD), swine flu can be completely treated if it is diagnosed at a very early stage.
The anti‐viral medicines oseltamivir (Tamiflu/Fluvir) and zanamivir (Relenza) are given to diagnosed patients.
Prevention
Wear a proper surgical mask during flu season because the number of cases shoots up during the summers and monsoon seasons.
Always cover your face while coughing or sneezing. Ensure others around you also follow the same practice, especially if they're down with cold.
Always wash your hands before and after eating and particularly after returning from a public place.
 Way Forward
A range of administrative policies and practices can be used to minimize influenza exposures before arrival, upon arrival, and throughout the duration of the visit to the healthcare setting.
Measures include screening and triage of symptomatic patients and implementation of respiratory hygiene and cough etiquette.
Information could be collected from different surveys and surveillances to:
Find out when and where influenza activity is occurring
Track influenza-related illness
Determine what influenza viruses are circulating
Detect changes in influenza viruses
Measure the impact influenza is having on hospitalizations and deaths in the United States
Our Government may follow the S. influenza surveillance system which is a collaborative effort between CDC (Centre for Disease Control) and its many partners in state, local, and territorial health departments, public health and clinical laboratories, vital statistics offices, healthcare providers, clinics, and emergency departments.
Facilitate prompt awareness and characterization of influenza-A viruses with pandemic potential and accelerate the implementation of effective public health responses
 Mains  Question
Define Swine flu, its symptoms and preventive measures against the H1N1 virus.
Make Notes