Relevance
GS3 || Science & Technology || Defence || Military Technology
 Why in news?
Defence Research and Development Organisation (DRDO) successfully flight tested the second indigenously developed 'Solid Fuel Ducted Ramjet (SFDR)' propulsion based missile system.
 Solid Fuel Ducted Ramjet (SFDR):
It is a missile propulsion technology jointly developed by India and Russia.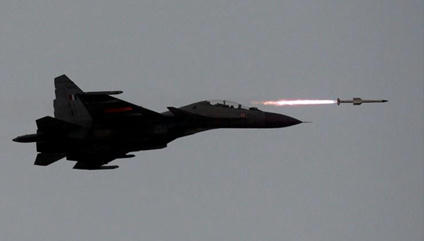 Significance:
It will help both India's surface-to-air and air-to-air missiles to perform better and enhance their strike range, making them more lethal.
With it, India can have fastest long-range missiles in two categories, providing full-fledged and multi-layered aerial protection from hostile attacks.
Its successful use in missiles will mark India's entry into select club of nations that use next-generation missile technology against manoeuvring targets, compromising effectiveness of conventional missiles. 
What is ramjet?
Ramjet is a form of air-breathing jet engine that uses the vehicle's forward motion to compress incoming air for combustion without a rotating compressor.
Fuel is injected in the combustion chamber where it mixes with the hot compressed air and ignites.
A ramjet-powered vehicle requires an assisted take-off like a rocket assist to accelerate it to a speed where it begins to produce thrust.
Important facts for prelims – About air to air missiles
An air-to-air missile (AAM) is a missile fired from an aircraft for the purpose of destroying another aircraft.
AAMs are typically powered by one or more rocket motors, usually solid fuelled.
India's air to air missiles :
Astra (missile) – All weather beyond-visual-range air-to-air missile developed by the Defence Research and Development Organisation, India.
It is the first air-to-air missile developed by India. (Used in Sukhoi) [Operational range of Astra – 80 ~110km]
Future development – DRDO plans to develop a Mk 2 variant of Astra with a larger engagement envelope and a range of 100 km (62 mi). Multiple different propulsion systems have been considered, including liquid-fuel ramjet, solid-fuel ramjet and dual pulse solid rocket motor.
Make Notes