Relevance
GS 3 || Economy || Infrastructure || Energy
Why in news?
The Indian government is intending to move towards a gas-based economy by increasing the share of natural gas in India's energy basket from the current 6-7% to 15% by 2022.
 National Gas Grid
Since a National Gas Grid (NGG) was conceptualized in 2000, India has built more than 16,000 km on gas network.
These pipelines have been authorized by Petroleum and Natural Gas Regulatory Board (PNGRB)
 Objective
To remove regional imbalance within the country with regard to access for natural gas and provide clean and green fuel throughout the country.
To connect gas sources to major demand centres and ensure availability of gas to consumers in various sectors.
Development of City Gas Distribution Networks in various cities for the supply of CNG and PNG.
 Significance
The National Gas Grid together with providing gas connections to households will provide better infrastructure for automobiles using gas. The National Gas Grid will also aid in renewing of the fertilizer sector and also give a boost to the Power and Automotive sector
 Are we moving towards a Gas-based economy
Aim
Fighting with the problem of pollution
Improving living standards of people
Creating employment
Carbon friendly initiative
To produce natural gas in coming time
Challenges
Pipeline connectivity needs a right way for uninterrupted supply and affordability.
Laws with respect to pipelines are quite unfair which need to be revisited. The amount of compensation given to the person under whose land the pipeline is being laid is very less as the land cannot be used further for agriculture or construction which of reasonable width.
Safety issues and consumer education.
A Good outreach of distributor companies to all states and rural areas as petroleum is a central subject.
 Why Natural Gas?
Natural gas is a superior fuel as compared with coal and other liquid fuels being an environment friendly, safer and cheaper fuel.
Natural gas is a naturally occurring hydrocarbon gas mixture consisting primarily of methane, but commonly including varying amounts of other higher alkanes, and sometimes a small percentage of carbon dioxide, nitrogen,hydrogen sulfide, or helium.
Natural Gas is supplied through pipelines just like water from the tap. Hence, its saves space by not using cylinders.
Natural Gas (as CNG) is cheaper by 60% as compared with petrol and 45% w.r.t. Diesel.
Natural Gas (as PNG) is cheaper by 40% as compared with market price LPG.
An auto-rickshaw owner can save 7000-8000 on his monthly fuel bill by conversion from petrol to CNG.
Natural gas available in India can broadly be classified into two categories, viz.
Domestic Natural Gas
Imported Re-gasified Liquefied Natural Gas (R-LNG)
 The Way Ahead
Indian economy's energy needs will rise with growth, and demand for denser energy sources will grow even faster.
Structural changes on several fronts are necessary to overcome the hurdles related to poor management of energy.
 Additional Info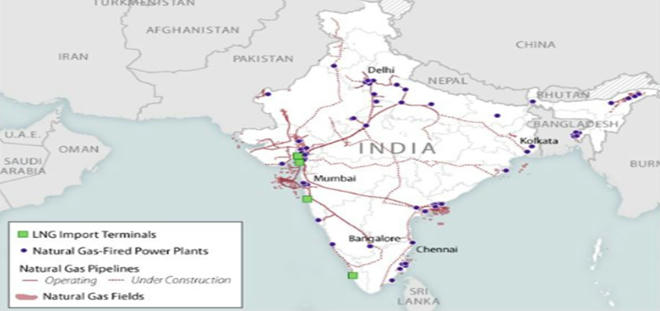 Liquefied Natural Gas (LNG)
To overcome the transportation drawback, natural gas shipping takes place from available regions in other countries in liquid form. LNG has volume that is 1/600th of its original volume.
Compressed Natural Gas (CNG)
Natural gas is compressed to 200 bar pressure so that the volume is almost 1% of the original. Unlike LNG, the plant, machinery, and investment required for CNG production is considerably less.
Liquefied Petroleum Gas(LPG)
LPG production happens during the refining of crude oil. The composition is predominantly propane, butane, or a mix of these and other gases. In addition, extraction of LPG takes place directly from some of the oil wells. The calorific value is higher than the Natural gas in the range of 95 MJ /kg
 Mains Question
Examine objectives, the need and significance of national gas.
Make Notes