Relevance:
GS 2 || International Relations  || India & Rest of the World  || West Asia
Why in news :
India will import crude oil from Iran using a rupee-based payment mechanism, adding that 50% of those payments will be used for exporting items to Tehran.
The official said Iran is open to accepting rupee payment for oil and may use the money to pay for equipments and food items it buys from India.
Why is India doing this?
Primary reason is because U.S has blocked payments of USD and Euro. Earlier India used European Channels to make payments to Iran.
Iranian oil is a lucrative buy for refiners as the Iran provides 60 days of credit for purchases, terms not available from suppliers of substitute crudes — Saudi Arabia, Kuwait, Iraq, Nigeria, and the US.
India's exemption from Iran sanctions
India had won the exemption after it agreed to cut imports and escrow payments.
Under the 180-day exemption, India is allowed to import a maximum of 300,000 barrels a day of crude oil. This compares to
an average daily import of about 560,000 barrels this year.
India, which is the second biggest purchaser of Iranian oil after China, has since then restricted its monthly purchase to 1.25 million tonne or 15 million tonne in a year (300,000 barrels per day), down from 22.6 million tonne (452,000 barrels per day) bought in 2017-18 financial year
Under US sanctions, India will be allowed to export farm commodities, food, medicines, and medical devices to Iran. However, items such as petroleum and petrochemical products, automobiles, steel, precious metals and graphite are not allowed to be exported to Tehran.
How does paying in rupees help India?
Iran will mostly use the Indian currency in buying goods from India that will help Indian businesses.
It will create some sense of faith in the Indian rupee as a mode of transaction. Our rupees will gain huge on convertibility index.
Dominance of dollar as global currency :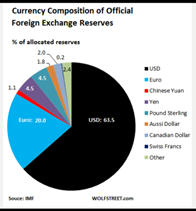 Make Notes