Relevance
GS 2 || International Relations || India & it's Neighbours || Pakistan
Why in news ?
The Union Cabinet chaired by Prime Minister Narendra Modi recently approved implementation of Shahpur Kandi Dam Project on river Ravi, which has been declared a national project.
The Cabinet also approved Central Assistance of Rs 485.38 crore the project to be provided over next five years. On completion of the project, an Irrigation Potential of 5,000 ha in Punjab State and 32,173 ha in J&K State would be created.
About the project:
The 55.5 high Shahpur Kandi dam, located in Gurdaspur district of Punjab, will help in providing irrigation facility to 5000 hectares of land in Punjab and 32173 hectares in J&K besides generation of 206 MW power.
Tagged as a national project by the Centre, it was to be built with an estimated cost of Rs 2,285.81 crore (as per April 2008 price level) and is expected to generate 206 megawatt electricity. The project will continue to be implemented by Punjab and its design shall be as agreed by both states. Model studies will be carried out concurrently to ensure J&K gets its mandated share of 1,150 cusecs of water.
Under the scheme, MoWR provides central assistance @ 90% of the balance cost of works component of irrigation and water supply.
The construction of Shahpur Kandi project was taken up in May 1999 but later halted in 2014 due to dispute between Punjab and J&K.
Why J&K Objecte
In July 2004, during Amarinder Singh's first stint as Chief Minister, the Assembly passed The Punjab Termination of Agreements Act, 2004, unilaterally abrogating its water- sharing agreements with neighbouring states.
Jammu and Kashmir demanded a firm commitment from Punjab that its rights over the water and power from the Ranjit Sagar dam would be protected in perpetuity.
Centre's intervention :
Having stated its commitment to ensure that India makes full utilisation of its "unrestricted" right over the waters of the "Eastern Rivers" — Ravi, Sutlej and Beas — of the Indus basin as per the provisions of the Indus Waters Treaty, 1960, the central government began to actively mediate between Punjab and J&K, in order to ensure that no water is allowed to flow unutilised into Pakistan. The Punjab Irrigation Department estimates a nearly 12,000-cusec flow of Ravi water into Pakistan.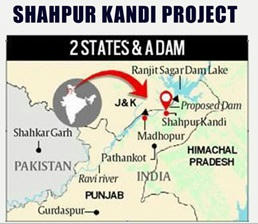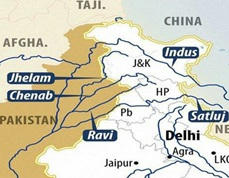 Projected benefits
Punjab government officials say the Shahpur Kandi project will provide a balancing reservoir to enable the upstream Ranjit Sagar Dam project to act as a peaking station, besides having its own generation capacity of 206 MW and irrigating 37,173 hectares of cultivable command area in Punjab and J&K.With the construction of the Shahpur Kandi dam, a gross storage capacity of 12,071 hectare metres would be provided, so it would be possible to generate 600 MW at Ranjit Sagar without letting any water downstream of Shahpur Kandi.
Gain for J&K
J&K will get 20% of the power generated through the project at Rs 3.40 per unit with prospective effect. J&K is entitled to 0.69 million acre feet (MAF) of water from the Ravi, of which only 0.215 MAF is being utilised currently. Following the agreement, Kathua and Samba and some parts of Jammu district will benefit
Pakistan water shortage
Pakistan is currently facing an acute water shortage that is likely to wreck havoc in the country in the coming years. Recently, the Indus River System Authority (IRSA) highlighted a grave water shortage in the Indus Basin irrigation system (IBIS). Pakistan is running out of fresh water at an alarming rate, and authorities anticipate that it is likely to suffer a shortage of 31 million acre-feet (MAF) of water by 2025. The shortfall will be devastating for a country with an agriculture-based economy.
Nearly 70 percent of the Pakistan's population is directly or indirectly associated with agriculture, which accounts for 26 percent of its gross domestic product (GDP).
Prelims bits : About Ravi River :
The Ravi River, a transboundary river of India and Pakistan, is an integral part of the Indus River Basin and forms the headwaters of the Indus basin. The waters of the Raavi River drain into the Arabian Sea (Indian Ocean) through the Indus River in Pakistan. The river rises in the Bara Bhangal, District Kangra in Himachal Pradesh, India. The river drains a total catchment area of 14,442 square kilometres (5,576 sq mi) in India after flowing for a length of 720 kilometres (450 mi). Flowing westward, it is hemmed by the Pir Panjal and Dhauladhar ranges, forming a triangular zone.
Make Notes