Relevance:
GS 2 ||Governance & Social Justice ||Human Development || Health
Why in news?
The World Health Organization (WHO) recently released the World Health Statistics Overview 2019.
Highlights
Life expectancy: For men and women combined, average life-expectancy has increased by 5½ years since the turn of the century — from 66.5 years in 2000 to 72 years in 2016.

While "healthy" life expectancy (the number of years lived in full health) increased from 58.5 years in 2000, to 63.3 years in 2016.

Births: In 2019, the WHO report said, more than 141 million children will be born: 73 million boys and 68 million girls.
Mortality risks: Based on recent mortality risks the boys will live, on average, 69.8 years and the girls 74.2 years — a difference of 4.4 years.
Life expectancy at age 60 years is also greater for women than men: 21.9 versus 19.0 years.
Women outlive men everywhere, the World Health Organization (WHO) said recently while releasing its World Health Statistics Overview 2019.
Whether it's homicide, road accidents, suicide, and cardiovascular disease— time and time again, men are doing worse than women.

Global suicide mortality rates were 75% higher in men than in women in 2016.
Death rates from road injury are more than twice as high in men than in women from age 15.
Mortality rates due to homicide are 4 times higher in men than in women.
Country wise discrepancy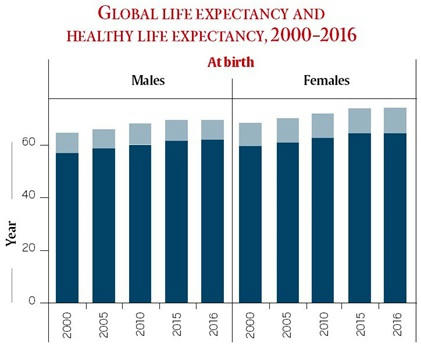 Life expectancy remains strongly affected by income.

In low-income countries, life expectancy is 18.1 years lower than in high-income countries.
One child in every 14 born in a low-income country will die before their fifth birthday.

The risk of maternal death is hugely different between high-income and low-income countries.

The gap between men's and women's life expectancy is narrowest where women lack access to health services.
In low-income countries, where services are scarcer, 1 in 41 women dies from a maternal cause, compared with 1 in 3300 in high-income countries.
In more than 90 per cent of low-income countries, there are fewer than 4 nursing and midwifery personnel per 1000 people.
Possible reasons
Attitudes to healthcare differ: The report attributes the discrepancy to differing attitudes to healthcare between men and women.

In countries with generalised HIV epidemics, for example, men are less likely than women to take an HIV test, less likely to access antiretroviral therapy and more likely to die of AIDS-related illnesses than women.
The same principle applies for tuberculosis sufferers, with male patients less likely to seek care than women.
So men are much more likely to die from preventable and treatable non-communicable diseases.
Additional info
World Health Organization (WHO)
The World Health Organization (WHO) is a specialized agency of the United Nations that is concerned with international public health.
It was established on 7 April 1948, and is headquartered in Geneva, Switzerland.
The WHO is a member of the United Nations Development Group. Its predecessor, the Health Organisation, was an agency of the League of Nations.
Since its establishment, it has played a leading role in the eradication of smallpox.
Its current priorities include:

communicable diseases, in particular HIV/AIDS, Ebola, malaria and tuberculosis;
the mitigation of the effects of non-communicable diseases such as sexual and reproductive health, development, and aging;
nutrition, food security and healthy eating; occupational health;
substance abuse; and
driving the development of reporting, publications, and networking.

The WHO is responsible for the World Health Report, the worldwide World Health Survey, and World Health Day.
Mains question
One of the central problems in India's healthcare system has been the low levels of public spending on health. Critically examine why public spending on health remains low despite poor health indicators. Also comment why the issue needs to be addressed immediately.
Make Notes