Relevance
GS 2 || International relations || India and rest of the world || West Asia
Why in news ?
UAE President Khalifa bin Zayed Al Nahyan has awarded Prime Minister Narendra Modi the country's highest civilian award, 'the Order of Zayed'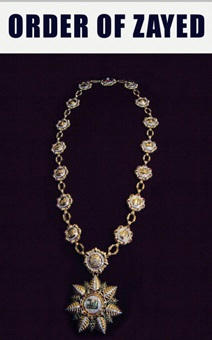 India and UAE relations :
UAE has been identified by India as a key partner in the very volatile region and an important region because of India's energy imports and large segment of India's Diaspora lives there. So India is trying to expand and enhance its partnership and defence ties.
Security has not been a significant aspect of our relationship so far with countries in West Asia. The countries in Middle East have also started feeling anxious because of the rise and expansion of Islamic State. Therefore India is developing security and defence ties with UAE.
Both countries held bilateral exercises between Indian Air Force (IAF) and United Arab Emirates Air Force (UAE AF) called Desert Eagle II.
India is a large country, large economy and a large market. With the international economy going down over the last few years all these countries are looking for big markets and also big destination for their energy exports and India is an excellent candidate in this regard.
During Prime Minister Narendra Modi's successful visit to UAE in 2015, UAE promised to invest $75 billion into infrastructure development in India. The pace seems to be little slow, but we may see the realistic results on the ground very soon. There is huge sovereign wealth fund in UAE of more than $800 billion. India needs $1.5 trillion of investment over the next 5 years to improve our infrastructure.
According to the latest figures the remittances which the Indian Diaspora in UAE send back to India is around $13.6 billion which helps India to tackle its Current Account Deficit. Indian Diaspora is the important representatives of India and they act as a strong and binding factor between the two countries. There are about 2.6 million Indian Diaspora in UAE which accounts for 12% of the total Diaspora. They are making huge contribution towards economic prosperity, stability and success of UAE.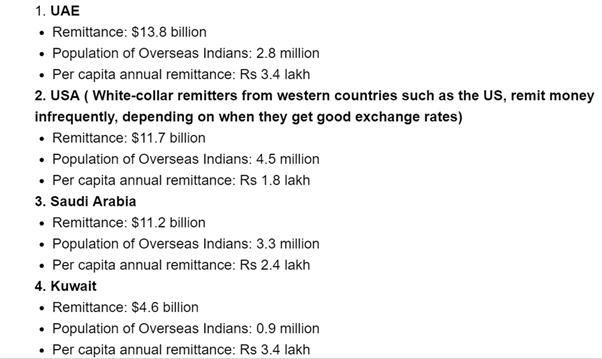 UAE's Abu Dhabi National Oil Co (ADNOC) and its partner Saudi Aramco have jointly taken a 50 per cent stake in the planned $44 billion refinery-cum-petrochemical complex at Ratnagiri in Maharashtra.
In 2016, India and the UAE signed a Memorandum of Understanding (MoU) to explore opportunities for mobilisation of up to $75 billion long-term investment in the National Investment and Infrastructure Fund (NIIF)
Make Notes