Relevance:
GS 3 || Environment || Climate Change || Tackling Climate Change
Why in news?
Demand for green financing continues to be high from international investors and it is in India's interest to develop a strong green financing ecosystem.
Introduction
With 300 clear sunny days, over a dozen perennial rivers and a coastline of more than 7,500 KMs, India since the age of Puranas, had realised the importance of the sun and other sources of renewable energy and the power they possess for the benefit of its inhabitants.
But as of now, this fact is not hidden from anyone that India is the world's fourth-largest carbon emitter with its population of 1.3 billion people with power sector contributing majorly to the same.
But in the recent years, India has made significant strides in the renewable energy space.
The Climate Change concern across the Globe has further propelled the Government and Decision Makers to develop a detailed blue print for clean and sustainable power for all.
Besides promoting phases of the solar parks plan and powering public facilities such as railway stations and stadia using solar power, the Centre should put in place arrangements that make it easier for every citizen and small business to adopt rooftop solar.
This is crucial to achieving the overall goal of 100 GW from this plentiful source of solar energy by 2022, and to raise the share of renewables in the total energy mix to 40 per cent in the next decade.
Green projects
Let's not confine the "green projects" status only to solar or wind energy.

Sustainable land use,
water and urban waste management,
green buildings,
clean transportation,
pollution prevention and control systems, and
energy efficiency projects are some of the areas that are globally eligible to receive green financing.
Green finance ecosystem need
As part of the initial commitments to the Paris Climate Accord –

India plans to reduce its carbon emission intensity – emission per unit of GDP – by 33-35% from 2005 levels over 15 years.
It is working towards producing 40% of its installed electricity capacity by 2030 from non-fossil fuels. This would lead to a significant shift from coal-based power generation to renewable energy sources.
To achieve these challenging statistics, it has to produce –

100 gigawatt from solar,
60 gigawatt from wind,
10 gigawatt from biomass and
5 gigawatt from small hydropower by 2022.

By 2022, India's renewable capacity will more than double.

World Bank Report: According to the World Bank, 70% of the global greenhouse gas emissions comes from infrastructure development, construction, power plants and transport system operations.
WHO projections: The World Health Organization projects that the number of deaths attributable to the harmful effects of emissions from key infrastructure industries will rise from the current 150,000 per year to 250,000 by 2030.
Therefore, the challenge before developing economies is:

how to modernize societies,
build quality infrastructure and
provide efficient transportation services while minimizing the damage to the environment.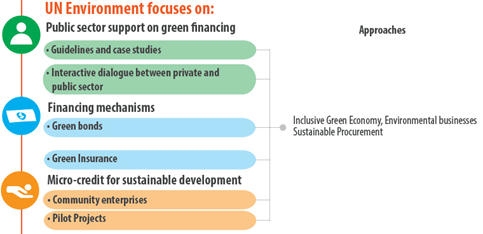 India is no exception. The government has rightfully put infrastructure development on mission mode, in the firm belief that good infrastructure will be a force multiplier for job creation and higher economic activity.
The country needs about $4.5 trillion in infrastructure funding by 2040.

Of this, nearly $200 billion will be required to generate 175GW renewable energy by 2022;
$7.7 billion for intra-city metro rail networks;
$667 billion for electric vehicles programme; and
affordable green housing will need about $1 trillion.

Investments required to achieve these ambitious targets cannot be met by traditional sources of financing.

India's annual budgetary allocation towards renewable energy has been largely insufficient.
Banks and other traditional lenders primarily focus on fossil fuel-based energy projects.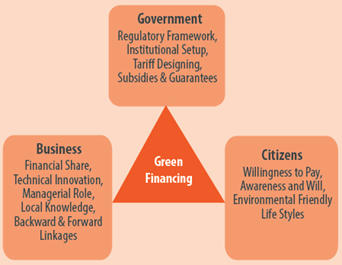 In such a scenario, providing innovative thinking in climate finance is key to successful execution of big-ticket projects in India.

Green financing strategies such as green bonds, catalytic and transformational financing, and impact investing can provide the much-needed panacea for an infrastructure-hungry country like ours.
Green bonds
Today, green bonds help companies tap money from specialized funds focused on climate change.

As of now, 120 institutional investors from nine countries have joined the Institutional Investors' Group on Climate Change.
Also, over 1,500 institutions are signatories to the United Nations' Principles for Responsible Investments.

Sovereign funds like GIC, Abu Dhabi Investment Authority, and multilateral agencies such as International Monetary Fund, International Finance Corp. and Asian Development Bank, among others, are proactively channeling funds to invest in green sustainable projects.

These global institutions believe in growing responsibly and, hence, are committing funds to mitigate the impact of climate change and avail business opportunities associated with the transition to a lower-carbon society and economy.
According to the International Energy Association, to limit climate change to 2 degrees, CO2 emissions must fall by 70% in aggregate by 2050 in Asia. For this to fructify, emissions from the power industry, for example, should reduce by 85%.
Green bonds in India
India's green bonds market is still nascent.

The country's first green bonds were issued as recently as 2015.
Cumulatively, India has raised over $6 billion via green bonds, of which one third were issued in 2017.

China was the top green bonds issuer in 2017 with a 22% share, followed by the US (13%) in the $120 billion global market.

Green bond issuances in Asia are likely to cross $600 billion over the next five years.
Demand for green financing continues to be high from international investors and it is in India's interest to develop a strong green financing ecosystem.

In India, banks and non-banking financial companies have traditionally been the primary sources of green infrastructure funding. But they have a limited appetite for long-term debt due to asset-liability mismatch.

Also, the current regulatory restrictions allow insurance companies and pension funds to invest only in AAA-rated bonds.
This regulatory framework should change in order to provide a fillip for green bond issuances.

To deepen the green bonds markets in India, the government should actively consider making them tax-free.

Tapped astutely, the Smart Cities project can attract huge capital from these bonds.
A conducive and transparent regulatory environment can unlock the full potential of green financial strategies in India, helping the country achieve its Paris Climate Accord targets.
Conclusion
The status of energy sector in India has been highly uneven and the scope of reforms in many areas still exist. There is a need for a comprehensive energy policy.
Subjects such as need for unified energy policy, requirement of seismic data sets and encouragement of biofuels, improving gas supplies, setting up of gas hub and regulatory issues were discussed.
India's rising energy demands and the need to connect millions who are still without power will not be possible only through intermittent renewable energy and phasing out coal power units.
A major shift towards renewable energy will render some thermal power plants idle and investment in these plants will be wasted as it no longer will be possible to recover any returns from them.
Additional info
International Energy Agency (IEA)
The International Energy Agency (IEA) is a Paris-based autonomous intergovernmental organization.
It was established in the framework of the Organisation for Economic Co-operation and Development (OECD) in 1974 in the wake of the 1973 oil crisis.
The IEA was initially dedicated to responding to physical disruptions in the supply of oil, as well as serving as an information source on statistics about the international oil market and other energy sectors.
Member states: Only the OECD member states can become members of the IEA.

Except for Chile, Iceland, Israel, and Slovenia, all OECD member states are members of the IEA.
IEA member countries are required to maintain total oil stock levels equivalent to at least 90 days of the previous year's net imports.

Associate Member: In March 2017, after a series of intensive consultations with all the relevant ministries, India joined the IEA as an association country.
Mains question
"Demand for green financing continues to be high from international investors and it is in India's interest to develop a strong green financing ecosystem." Discuss.
Make Notes