Relevance:
GS 3 || Economy || Banking & Financial Sector || NBFC
Why in news?
Kotak Mutual Fund and HDFC Mutual Fund wrote to their investors acknowledging that they have exposure to securities of troubled Essel Group companies.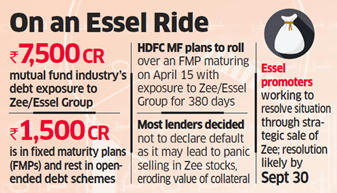 Fixed Maturity Plans (FMPs)
Fixed Maturity Plans (FMPs): FMPs are fixed-tenure mutual fund schemes that invest in debt instruments including:

government securities,
commercial papers (CPs),
non-convertible debentures (NCDs) and
certificates of deposits (CDs) among others and thereby generate interest income for investors.

They are close-ended funds that mature after a predetermined time period.
Risks involved
Fixed returns: With funds parked in government and private-sector debt instruments, FMPs are generally considered safe for investment offering fixed returns.
Lesser risk: Debt-oriented schemes also carry a risk though not as high as equity schemes.
But, for investors in debt schemes, it is important to know that if their debt MF scheme has invested in debt securities of a company that is not financially strong and is facing liquidity pressure, then their investments may suffer in the event of a default by that investee company.
No legal grounds for complaint: Investors in the affected FMPs have no legal grounds for complaint given that such defaults are part of the market risks they signed up for while investing in mutual funds.
Recent happenings
Several FMPs not able to repay: The investors who had put their money in Kotak MF's FMP in November-December 2015 were ideally supposed to get their capital along with interest income on the date of maturity, April 10, 2019.
However, since the fund house had high exposure (almost 27% of initial corpus) to ITNL and two Essel Group companies that are facing a liquidity crisis, the fund house is not in a position to fully honour its commitment.
Other mutual funds such as HDFC Mutual Fund and Reliance Mutual Fund with exposure to Essel Group companies and IL&FS Group are also set to face a similar issue when it becomes necessary for their FMP or debt scheme to repay the investors at maturity.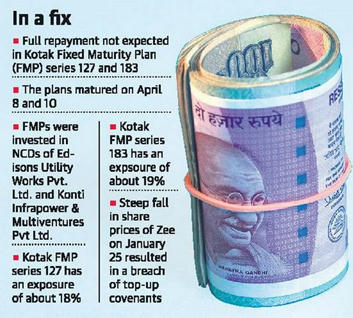 Larger implications
Bank NPA: Banks are already facing a big NPA crisis on account of default by a number of corporate entities on their debt instruments, including large companies.
The news of mutual funds having exposure to such companies has raised an alarm among investors of mutual funds.
If a corporate entity defaults on payment principal and interest to invested MF schemes, it takes away, in turn, the ability of the fund house to honour repayment to its investors.

Thus, it puts both the interest income and capital investment of the MF investor at risk.
With more and more corporate entities facing debt woes, the banks, NBFCs and mutual funds that have exposure to debt papers of such companies fall at risk.

Debt-oriented mutual funds are mostly subscribed to by corporate investors and high net-worth individuals (HNIs), or those investing Rs 5 lakh and above, the share of retail investors in such schemes has grown over the last four years.
So, retail investors too have exposure to such schemes and their money is at risk on account of fund houses' exposure to Essel Group companies.
Troubling concerns.
Despite being aware of the Essel group's troubles as early as January, the two AMCs have informed their investors of their inability to repay the proceeds only at the nth hour.

Earlier intimation would have allowed investors to plan their finances better.
Other fund houses that have the same exposures in their ongoing FMPs have maintained radio silence even after this fiasco.

Despite the many default events roiling debt funds in the last five years, AMCs remain poor at communicating their impact to investors.

In this case, while Kotak has been upfront with its investors about the possible loss of returns, HDFC has made no mention of the default, while seeking investor consent for the rollover.

There's also the question of how such concentrated exposures to the doubtful paper came to be held in FMPs, which are supposed to be conservatively managed.

In India, while government bonds are the safest investment instruments, debt papers issued by blue-chip companies are also considered low-risk investments.
Way ahead
Material disclosure regime: It is time for SEBI to evolve a material disclosure regime for mutual funds with standard communication formats, akin to that for listed companies.
Security-specific limits: SEBI needs to more strictly enforce security-specific limits in debt funds and bar inter-scheme transfers in close-end products.
Mutual fund managers on their part, have to analyze whether the extra returns they're chasing through promoter loan-against-share deals are worth the risk.
Accountability: The fund trustees, tasked with the fiduciary duty of overseeing AMCs, should also demand greater accountability from them instead of mutely rubber-stamping all their decisions.
Additional info
Mutual Fund/AMC
A mutual fund is a pool of funds collected from multiple investors which invests in assets like stocks and bonds. The pooled money is used to buy other securities by professional money managers.
Mutual funds are managed by Asset Management Companies (AMCs). Each AMC will typically have several mutual fund schemes.
Mains question
What are fixed maturity plans? Examine the crisis facing the mutual funds industry. Analyze the causes and suggest measures for its resolution.
Make Notes