Relevance:
GS 2 || International Relations || India & Rest of the World || USA
Title: US Mexico border wall controversy, Trump closing US Mexico border can throw USA economy in recession
Why in news?
US President Donald Trump has threatened to close the Mexico border as a measure to check illegal immigration, as a punishment for Mexico
However, economists have warned that any such move would be disastrous for the US economy.
Impacts
NAFTA: The North American Free Trade Agreement (NAFTA) facilitates trade by cutting tariffs and streamlining regulations.

Reports citing figures from the US Chamber of Commerce said nearly $1.7 billion of goods and services flow across the Mexico border daily.
These include jeans, cars, flat-screen TVs — and avocados, beloved to many Americans.

Manufacturing: US manufacture would be among the biggest victims of a border shutdown.

US industries rely on Mexico, either by selling goods and services into Mexico or by using Mexican materials in their products.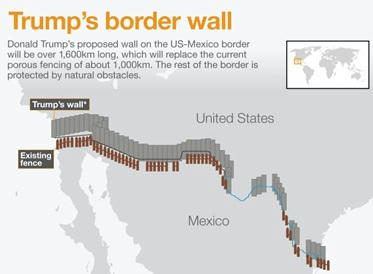 Trade: Mexico is the United States' third largest trading partner, with the latter importing $349.6 billion from Mexico in 2018, and exporting $265 billion (Union Nations' International Trade Center). Among those affected would be –

Automobile makers: with supply chains disrupted,
Electronics: manufacturers of flat-screen TVs, computer hardware and medical devices,
Apparel industry: that sources raw materials from the US and makes finished products in Mexico.

Natural gas: Mexico also depends on the US for natural gas through cross-border pipelines, while hundreds of thousands of US jobs are tied to transportation to and from Mexico.

Overall, top multinational companies would be affected — including Ford, Toyota, Boeing— and so would countless small- and medium-size businesses.

Avocados & other food: The US depends on Mexico for fresh fruit and vegetables like avocados — Mexico supplies 80% of the avocados eaten in the US — as well as tomatoes, strawberries, grapes and mangoes, while Mexico relies on US soybeans, corn, dairy products.

Shutting the border would most likely lead to dwindling of supplies, a spike in prices of food items imported from Mexico, and a drop in prices of US crops besides a loss of market.
Mexico supplies more than 60% of all US produce in the winter and early spring, and that a shutdown could result in immediate and uncontrollable spikes in prices for items like squash, tomatoes, cucumbers, melons — and the beloved avocado.

Border communities:

Closing the US-Mexico border would inflict severe economic harm on American families, workers, farmers and manufacturers across the United States.
Also if business relations with Mexico are strained, border communities in the US would most likely suffer, from decreased economic activity as well as potentially higher costs from crime and migration.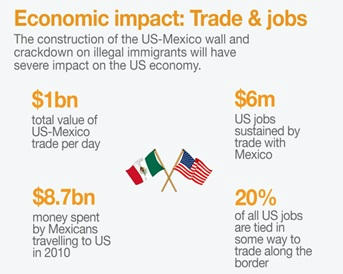 Additional info
North American Free Trade Agreement (NAFTA)
The North American Free Trade Agreement (NAFTA) is an agreement signed by Canada, Mexico, and the United States, creating a trilateral trade bloc in North America.
The agreement came into force on January 1, 1994.
It superseded the 1988 Canada–United States Free Trade Agreement between the United States and Canada.
United States–Mexico–Canada Agreement (USMCA): On September 30, 2018, it was announced that the United States, Mexico, and Canada had come to an agreement to replace NAFTA with the United States–Mexico–Canada Agreement (USMCA).

The USMCA is the result of the renegotiation of NAFTA that the member states undertook from 2017 to 2018, though NAFTA will remain in force until the USMCA is ratified by its members.
Mains question
Examine the impacts of the US-Mexico border wall on US economy.
Make Notes