Relevance
GS 2 || International Relations || India & Rest of the World || USA
Why in news ?
US President Donald Trump has rejected the United Nations' 2013 Arms Trade Treaty aimed at regulating the global arms trade.
Trump described the UN arms trade treaty as misguided and an intrusion on US sovereignty.
By pulling out of the ATT, the US joins India, which has not signed the treaty.
What is the 2013 arms trade treaty?
The Arms Trade Treaty (ATT) is a multilateral treaty that regulates the international trade in conventional weapons.
It entered into force on 24 December 2014.
101 states have ratified the treaty, and a further 34 states have signed but not ratified it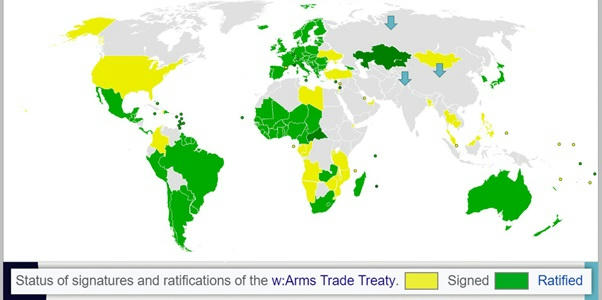 What does the Arms Trade Treaty seek to do?
The UN Arms Trade Treaty (ATT) has the ambitious aim of responding to international concern that the $70 billion a year trade in conventional weapons leaves a trail of atrocities in its wake.
The treaty calls for the international sale of weapons to be linked to the human rights records of buyers.
It requires countries to establish regulations for selling conventional weapons.
It calls for potential arms deals to be evaluated in order to determine whether they might enable buyers to carry out genocide, crimes against humanity, or war crimes.
The treaty also seeks to prevent conventional military weapons from falling into the hands of terrorists or organized criminal groups, and to stop deals that would violate UN arms embargos.
What types of conventional weapons deals does the Arms Trade Treaty seek to regulate?
Conventional weapons covered by the UN Arms Trade Treaty include tanks and other armored combat vehicles, artillery, attack helicopters, naval warships, missiles and missile launchers, and small arms.
It also establishes common international standards for the regulation of the international trade in ammunition, weapons parts, and arms components.
The treaty does not regulate the domestic sale or use of weapons in any country. It also recognizes the legitimacy of the arms trade to enable states to provide for their own security.
List of us withdrawals :
US pulls out of UN's migrant and refugee pact
US President Donald Trump signs executive order to pull US out of TPP
Trump announces US withdrawal from Paris Agreement on Climate Change
US withdraws from UNESCO
US withdrawal from Iran nuclear deal
United States withdraws from UN Human Rights Council
US pulls out of Intermediate-Range Nuclear Forces treaty with Russia
Make Notes