Relevance:
GS 2 || Polity|| Political Dynamics ||Elections
Why In News?
Facing a massive backlash over her comments boasting about her "curse" on 26/11 hero Hemant Karkare, BJP leader Pragya Singh Thakur apologized and said she is "taking back her words". She said Hemant Karkare was killed by terrorists and is certainly is a martyr.
Disgraceful comments
"I had told him you will be finished,and he was killed by terrorists in less than two months," Pragya Thakur had bragged at a press conference
"The investigation team called Hemant Karkare and said if you do not have evidence, let her go. He said I will do anything to get evidence against her. I won't let her go. This was his hatred (kuteelta). He was anti-national. He was dharma virudh (anti-religion). You won't believe, but I said, 'tera sarvanashhoga'. 
 Sadhvi Pragya Thakur's connection to Hemant Karkare
Pragya Singh Thakur was the first arrest in the Malegaon 2008 blast case on October 23, 2008, within a month of the blast after ATS investigation led by Hemant Karkare.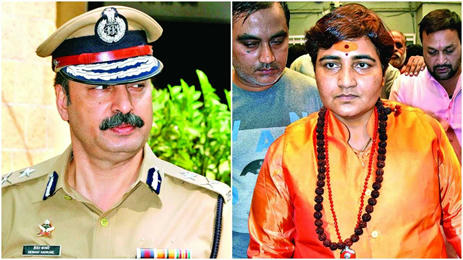 Blasts
In the 29 September 2008 Western India bombings, three bombs exploded in the states of Gujarat and Maharashtraof India killing 10 persons and injuring 80.Two bombs went off in Malegaon, Maharashtra, which killed nine people while another blast in Modasa, Gujarat resulted in the death of one person.
Duringthe investigation in Maharashtra, alleged evidence was made ascertaining the involvement of a Muslim group or groups in the blasts. The three arrested were identified as Sadhvi Pragya Singh Thakur.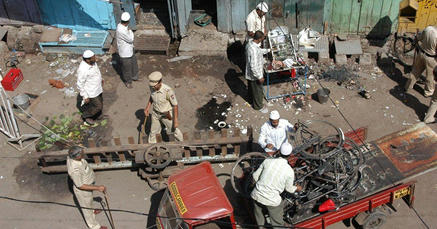 ATS probe
The ATS probe found a conspiracy hatched by the accused, allegedly in retaliation to jihadi attacks.
MALEGAON 2008–September 29,2008, 4 dead, 79 injured
ATTACK:Blast opposite Shakil Goods Transport Company, caused by LML Freedom motorcycle with explosives concealed inside.
Elections
The choice of Sadhvi Pragya is an attempt by the BJP to consolidate its core Hindutva base by lending its support to a person it believes is the "victim" of the Congress-led UPA's plot to script a narrative of "Hindu terror."
We believe Sadhvi Pragya Thakur represents the fighting spirit of women. She also represents the fight against unspeakable atrocities and torture under false allegations. She also represents our fight against crass vote bank politics," said Vinay Sahasrabuddhe, BJP national vice-president in charge of Madhya Pradesh.
CAN SHE CONTEST ELECTIONS?
As per Section 8(3) of The Representation of the People Act 1951, if a person is convicted of any offense and sentenced to an imprisonment of two years or more, it will lead to disqualification from contesting elections. Sadhvi Pragya has not been convicted by any court and that makes her eligible to contest elections.
Analysis
Types of Terrorism doesnot exist.
We ought to respect our Martyrs.
Court's decision is the final one.
Additional References
https://www.thehindu.com/elections/lok-sabha-2019/he-died-for-treating-me-badly-pragya-singh-thakur-says-about-2611-martyr-hemant-karkare/article26887877.ece
Mains  Question
Is it right to give the ticket to Sadhvi pragya to contest election? Comment.
Make Notes