Relevance:
GS 3 || Economy || External Sector || Balance of Payments
Why in news?
Rupee strengthened significantly in March 2019, on account of strong inflow of funds by foreign portfolio investors, and fell 30 paise lower to trade at around 69.5 against the dollar.
Status
It has lost nearly Rs 1.1 against the dollar from a level of 68.45 on April 3, 2019, to trade at around 69.5. The fall in rupee has been in line with a jump in global crude oil prices.
The Brent crude was trading at $70.7 per barrel, its highest level in the last five months.
Experts feel that if crude oil continues to rise, the rupee may come under further pressure as it will lead to a rise in the overall import cost.
Brent crude price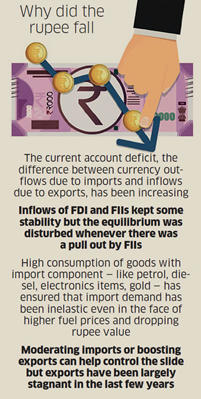 With concerns growing over supply from OPEC and US sanctions on Venezuela, Brent crude oil prices have risen from a level of $66 per barrel on March 28 to $70.7.
Rupee weakening
Increase in prices: If the Brent crude oil prices continue to rise, it may put additional pressure on the rupee.
However, expectations of weakening global growth may limit its rise.
Besides, a continued rise in inflow of FPI money will provide some support to the rupee.
October weakening
Crude traditionally has been a big determinant of rupee movement.

In October 2018, the rupee had fallen to its all-time low of 74.34 against the dollar in line with the rising crude oil prices.
Brent crude had hit a level of $86 per barrel in October, putting pressure on the rupee and India's current account deficit.
However, as the crude oil prices declined over the following months to levels of around $52 per barrel by the end of December 2018, it offered a much-needed relief to the rupee and the economy.
Impact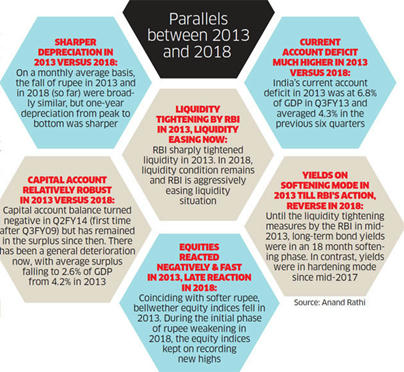 Current Account Deficit (CAD): As the rupee is under pressure and oil prices are inching up, it will impact the current account.

While the present depreciation is mainly due to external factors with the dollar strengthening against all emerging market currencies, the rising trade deficit is adding to the worry about the currency.
The rupee is the worst performing currency among the emerging market economies in Asia.

Rupee depreciated over 9% against the dollar in the current financial year.

The central bank is also not seen intervening aggressively, according to currency dealers.
The foreign exchange reserves, also seen as an important factor for currency stability, have depleted by $26 billion since April, due to sporadic interventions by the central bank to control the pace of fall in the currency.

Depreciating rupee: A weak rupee against the dollar makes imports costlier.

Inelastic imports: Some imports cannot be cut down such as oil, which can negatively affect India's current account deficit.
Trade war: Contrary to common trends that exports may rise with depreciating currency, the country's exports may not rise this time due to ongoing trade war between major economies across the globe.
Inflationary risk: Imports are costlier when the currency depreciates. Costlier oil means costlier vegetables and groceries since transportation costs go up.
Weak rupee also makes education and holidays in foreign countries more expensive. Imported goods like computers, smartphones and cars also get more expensive.
Industry borrowing: The external borrowing costs for Indian firms will only move up in the coming months due to rupee weakening.

This may dampen industry borrowing and slower economic growth at a time when Indian banks are cautious towards lending.
Mains question
As India depends on imported crude oil, global trends have a big impact. Examine the impact of crude oil price swings on the Indian economy.
Make Notes