Relevance
GS 1 || Arts and culture || Culture of India || Awards and honours
Why in news ?
Russia's highest civilian award – the "Order of the Holy Apostle Andrew the First," will be awarded to PM Narendra Modi for his work on bilateral ties.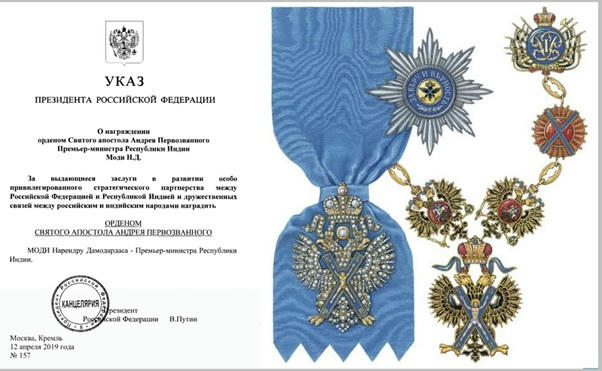 Details & Eligibility: 
The Order of the Holy Apostle Andrew the First is awarded to prominent government and public figures, prominent representatives of science, culture, art and various sectors of the economy for "exceptional services that contribute to the prosperity, greatness and glory of Russia".
It was first awarded by former Russian Tsar 'Peter the Great' in 1698 and subsequently discontinued. In 1998, former President Boris Yeltsin reinstated the honour by a presidential decree.
Previous recipients include Chinese President Xi Jinping, and presidents of Azerbaijan and Kazakhstan, former Soviet leader Mikhail Gorbachev and author Aleksandr Solzhenitsyn.
PM modi awards and recognition :
In October 2018, Modi received UN's highest environmental award, the 'Champions of the Earth', for policy leadership by "pioneering work in championing" the International Solar Alliance and "new areas of levels of cooperation on environmental action".
He was conferred the 2018 Seoul Peace Prize in recognition of his dedication to improving international cooperation, raising global economic growth, accelerating the Human Development of the people of India by fostering economic growth and furthering the development of democracy through anti-corruption and social integration efforts.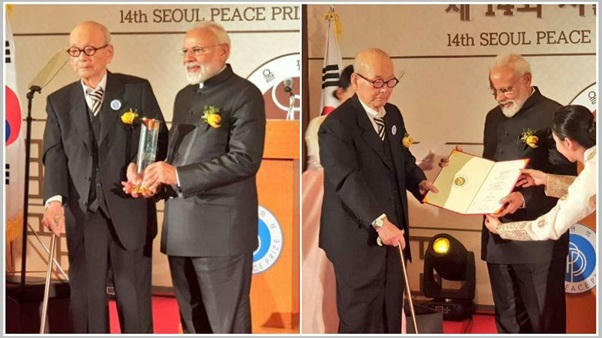 Prime Minister Narendra Modi, during his visit to Afghanistan, was on June 4, 2016 conferred with the Amir Amanullah Khan Award, the highest civilian honour of Afghanistan by President Ashraf Ghani of Afghanistan.
Prime Minister Narendra Modi was on February 10, 2018 conferred with the 'Grand Collar of the State of Palestine' by Palestinian President Mahmoud Abbas, recognising his contributions in promoting relations between India and Palestine.
Zayed Medal of UAE : The United Arab Emirates (UAE) announced its highest decoration for PM Modi on April 4, 2019, in recognition of his "pivotal role" in strengthening ties between the two nations.
Order of King Abdulaziz award : The Order of King Abdulaziz is a Saudi-Arabian order of merit. The order was named after Abdulaziz Al Saud, founder of the modern Saudi state.
  Awards to president of india :

Make Notes