Relevance
GS 3 || Science and technology || Space || Satellite and launch vehicles
Why in news ?
The Indian Space Research Organisation (ISRO) has launched the country's first electronic surveillance satellite, EMISAT.
It was launched on-board PSLV-C45. As many as 28 small satellites of international customers were also put in space as secondary riders.
They include 24 small satellites from the U.S., the other four customers are from Lithuania, Spain and Switzerland.
Details and significance of satellite :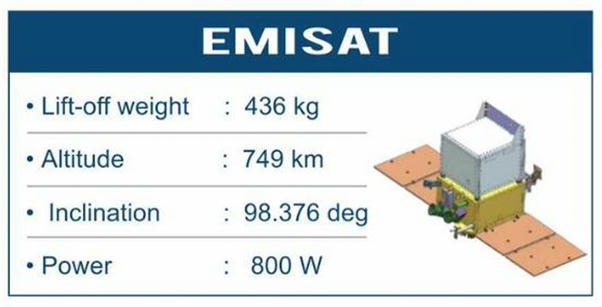 EMISAT is an advanced electronic intelligence (ELINT) satellite jointly developed by ISRO-DRDO. It is meant for electromagnetic spectrum measurements.
It is modelled after a famous Israeli spy satellite called SARAL (Satellite with ARgos and ALtika). Both these satellites have the SSB-2 bus protocol — the core component for their sharp electronic surveillance capabilities across the length and width of a large country like India.
EMISAT also has a special altimeter (a radar altitude measuring device) called 'AltiKa' that works in the Ka-band microwave region of the spectrum. The electronic surveillance payload of EMISAT was developed under a DRDO's project called KAUTILYA.
The main capability of EMISAT is in signal intelligence — intercepting signals broadcasted by communication systems, radars, and other electronic systems. The Ka-band frequency that EMISAT is sensitive to, allows the 436-kg EMISAT — India's newest spy in the sky — to scan through ice, rain, coastal zones, land masses, forests and wave heights with ease.
Additional references : https://youtu.be/Jbse-4Eq5tQ
Make Notes