Relevance
GS 3 || Economy ||Agriculture ||Agricultural Exports
Why in news ?
The Asian Tea Alliance (ATA) was launched in Guizhou in China.
What is ATA?
Asian Tea Alliance (ATA) is a union of five tea-growing and consuming countries. The members of the alliance are the Indian Tea Association, China Tea Marketing Association, Indonesian Tea Marketing Association, Sri Lanka Tea Board and Japan Tea Association.
ATA plans to work towards enhancing tea trade, cultural exchanges, technology exchanges as well as globally promoting tea. It will also work towards enhancing global consumption of tea, while creating a sustainability agenda for the future of Asian tea.
Issues with tea industry in asia :
Costs continue to increase, rise in prices has been marginal. In the last five years, the compound annual growth rate of input costs has been around 11 per cent but the corresponding growth in tea prices has been below 2 per cent.
Rising wages was another concern and if prices of tea do not rise substantially to meet the cost of production, the industry would not at all be viable to operate.
India's tea production :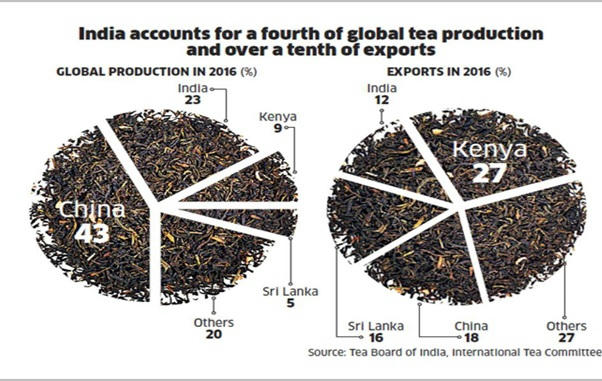 Assam produces half of India's tea and West Bengal less than a third.
South India accounts for only 18% of India's tea production, but the Nilgiris has lately gained a reputation for making good premium teas.
Total Tea exports stood at US$ 837.33 million in 2017-18, as compared to US$ 731.25 million during the previous year. Between Apr-Oct 2018, tea exports have reached US$ 463.95 million.
Between Apr-Oct 2018, major importers of Indian tea were Russia (US$ 64.14 million), Iran (US$ 57.63 million), US (US$ 34.90 million), UK (US$ 34.31 million) and UAE (US$ 30.15 million).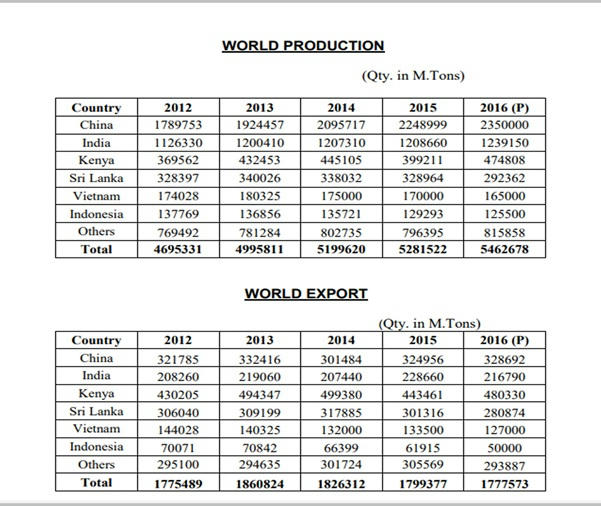 Assam has the largest area under tea plantations among all states in India, this is so because:
Tea Grows in moderately hot and humid climate with ambient temperatures ranging between 13-28˚C, above 32˚C is disastrous for tea.
Tea grows better on sloping topography which leaves no room for water to stagnate.
Acidic Soil with around 4.5-5.5 pH is most suitable for Tea
Assam's Dibrugarh, Nowgong, Sibsagar, Karbi Anlong , North Cacher and Bodoland districts provide the necessary drainage-oriented topography, temperature and humidity necessary for tea
Make Notes